On the price of ALL our accommodations on weekdays this fall 
From 209$/night + taxes (double occupation)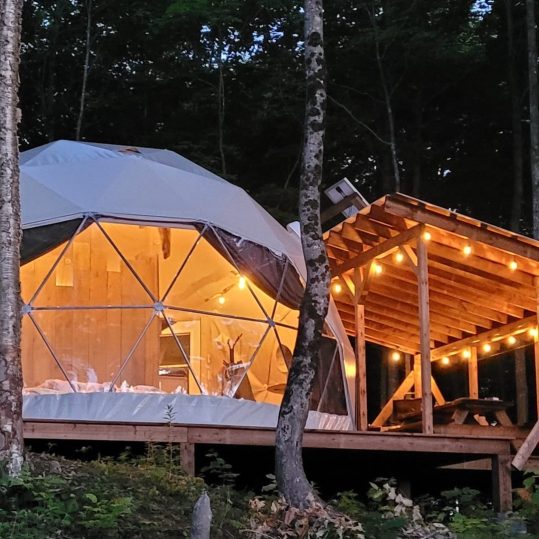 Wake up to the sound of birdsong and enjoy the calm silence that surrounds you in this majestic nature. You will be completely disoriented in front of so much beauty. Directly on the edge of a wild lake, you will have the chance to enjoy a very special view on a beaver lodge and on the water. Beautiful grey dried trees adorn this exceptional environment.
Located in the middle of the forest, it is only a few minutes walk to Lake Martinez, where you can take a swim, catch trout or paddle board. Happiness and inner calm will be immediate upon your contact with this natural and relaxing environment.
Heated with a wood stove and lid by solar energy, it is designed to welcome you 12 months a year.
Whole house
Capacity : up to 4 people
Arrival : 15h00 / Departure : 11h00
Non-smoker | No wifi | Dogs not allowed
View on the lake

Access to the waterfront

Kitchen

Wood stove heating system

Solar powered lighting

(cell phones, iPad and computer only)

Covered porch

Outdoor fireplace

Hammocks

Shared outdoor ecological toilet
Cooking pots

Coffee brewer

Dishes and utensils

Linen and dish soap

Toilet paper and brown paper

Salt/pepper

Extra bedding and blankets

4 containers of 18 liters of drinking water

Indoor wood (provided from Oct. 1st to May 31st)

2 round gas stove

BBQ and propane

mini fridge
« Beautiful place to stay - Inside and out. Very clean and quiet. There is a wood burning stove that kept it very warm. The host was extremely accommodating and the area is just beautiful. Overall such a great experience and we can't wait to go back. »
« We stayed for one night and it was lovely. We highly recommend kayaking on the waters as well as staying at least two nights! A great glamp-ing experience. Thank you! »
« A beautiful and unique stay with stunning views throughout every season! This was such a great experience! »
« I couldn't have asked for a better place to stay on the weekend. I went with my girlfriend to celebrate our anniversary and it was just great! Thank you very much Catherine. »