On the price of ALL our accommodations on weekdays this fall 
From 169$/night + taxes (double occupation)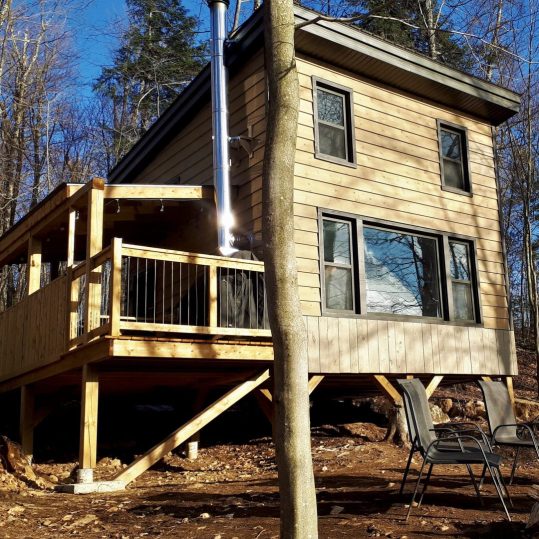 Fall asleep to the relaxing sound of the wind gently blowing through the leaves and branches. Watch the sunset reflect off the smooth surface of the lake through the large window.
Located right next to the dock, you can catch a trout for dinner, take a dip in the cool clear water of the lake or borrow a paddle board and float along with nature. Relaxation guaranteed!
Open space cabin with one queen bed and two single beds on the mezzanine.
Whole house
Capacity : up to 4 people
Arrival : 15h00 / Departure : 11h00
Non-smoker | No wifi | Dogs not allowed
View of the lake
Access to the waterfront
Kitchen
Wood stove heating system
Solar powered lighting
(cell pohnes, iPad and computer only)
Covered porch
Outdoor fireplace
Hammocks

Shared outdoor ecological toilet

Portable toilet available upon request ($)
Cooking pots
Coffee brewer

Dishes and utensils

Linen and dish soap

Toilet paper and brown paper

Salt/pepper

Extra bedding and blankets

4 containers of 18 liters of drinking water

Indoor wood (provided from Oct. 1st to May 31st)

2 round gas stove

BBQ and propane
« Catherine's cabin is beautifully submerged in nature. With big windows on the side of the house facing the lake, you won't get sick of this view. The cabin was perfect for my partner and I to cozy up on a fall evening and spend some quality time together. Highly recommend. »
« Absolutely splendid and wonderful stay. Everything a traveller could want and need in one place. Highly recommend! »
« Catherine is a great host! The cottage was spectacularly neat, beautiful, and cozy! It was exactly what we needed as a break from the city to relax and enjoy a romantic weekend! We loved this experience and would definitely recommend it to anyone looking for a quiet place to get away from modern life craziness to detox, cleanse their mind, and enjoy nature. »
« Heaven on earth in a Quebec forest with private lakes! My eco-lodge was gorgeous with huge windows facing the private lake and a soaring loft with the beds. Catherine kindly showed me how to use the wood burning stove and it kept the cabin very warm and smelled delicious. Everything you need for rest and relaxation is in the cabin Coming back for sure! »