On the price of ALL our accommodations on weekdays this fall
From 209$/night + taxes (double occupation)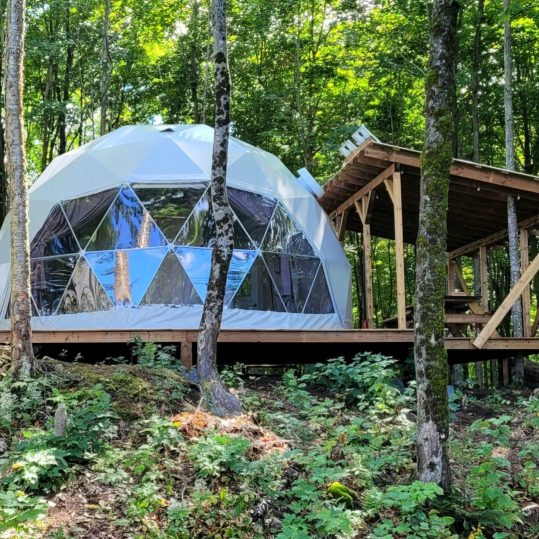 Located on a point of land surrounded by water, this dome offers a splendid and unique 180 degree view of Turtle Lake, thanks to its magnificent windows.
A true wildlife sanctuary, you will be able to observe several animal species in their natural environment including beavers, turtles and blackbirds. You will live an exceptional and resourcing experience in comfort, in the heart of nature.
Located in the middle of the forest, it is only a 3 minute walk from Lake Martinez, which is open for swimming, fishing and paddle board.
You will live a complete immersion, a fusion with nature and what it has to offer. Heated with a wood stove and solar-powered, it is designed to welcome you 12 months a year.
Whole house
Capacity : up to 4 people
Arrival : 15h00 / Departure : 11h00
Non-smokers | No wifi | Dogs not allowed
View on the lake

Access to the waterfront

Kitchen

Wood stove heating system

Solar powered lighting

(cell phones, iPad and computer only)

Covered porch

Outdoor fireplace

Hammocks

Shared outdoor ecological toilet
Cooking pots

Coffee brewer

Dishes and utensils

Linen and dish soap

Toilet paper and brown paper

Salt/pepper

Extra bedding and blankets

4 containers of 18 liters of drinking water

Indoor wood (provided from Oct. 1st to May 31st)

2 round gas stove

BBQ and propane

mini fridge
« Very cool spot for a quiet and private get away! We just stayed one night but would love to go back to spend a bit more time or enjoy the lake. The host and staff were very helpful and accommodating. Will be back. »
« Catherine's Dome house is truly magical and situated amongst the trees in the most idyllic setting by the edge of the lake. The interior of the Dome was furnished with all the equipment and additions to ensure a relaxing and complete vacation from the hustle and bustle of city life. We will definitely be back again soon! »
« Such an amazing, beautiful place! We had the absolute best experience. The owners are extremely hospitable and accommodated our every need. The nicest and most welcoming people! The dome was kept very clean and we had all the amenities we needed inside. Super cozy and romantic for couples, but would also be a really fun and unique family trip. I highly recommend! The cabins look cute and cozy too! Gorgeous views everywhere! »